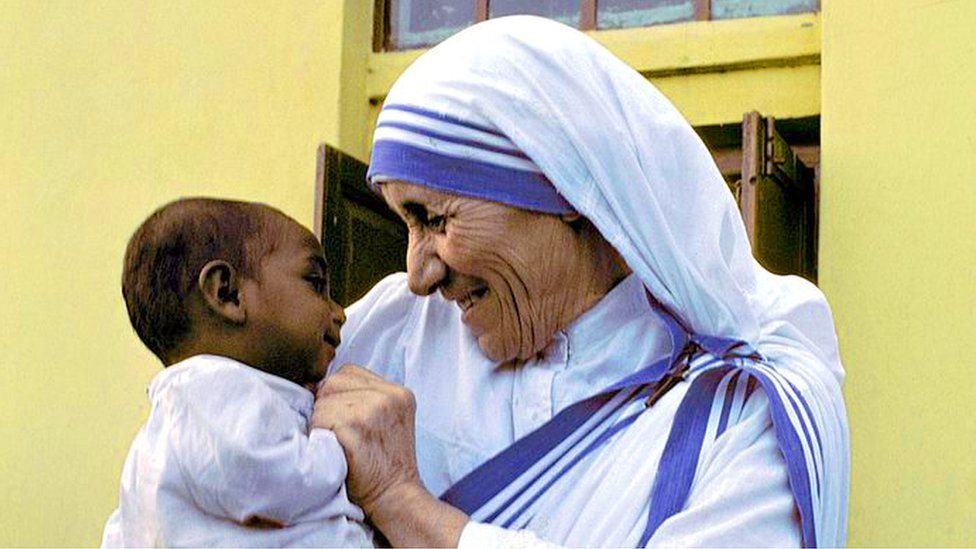 MOTHER TERESA (1910 – 1997)
Mother Teresa was born Agnes Gonxha Bojaxhiu in Skopje, Macedonia to a family of Albanian descent.
When Agnes was eight years old, her father died suddenly. She subsequently became very close to her mother, a woman who had a deep commitment to charity. Although not well off, her mother often invited the destitute to dine with her family. "My child, never eat a single mouthful unless you are sharing it with others," she counseled Agnes. At the age of twelve Agnes knew she had to be a missionary to spread the love of God.
When she was eighteen she was trained in Dublin and sent to India where she took her initial vows as a nun. From 1931 to 1948 she taught high school in Calcutta. But the poverty and suffering she saw outside the convent walls made a deep impression on her. She felt called to serve the poorest and sickest people. In January 1948 Mother Teresa received approval to follow this new calling. After six months of basic medical training she entered the slums. Her goal, to aid "the unwanted, the unloved, the uncared for."
Love was the overarching feature of Mother Teresa's life. She gave her all to care for people nobody was prepared to look after. She reached out to those who were shunned by others, in the way many of us living with mental illness are shunned.
Mother Teresa showed the kind of love Jesus modelled when he walked the earth and made a difference in people's lives—people who needed love more than anything. What inspiration for all of us!
Mother Teresa wrote, "The hunger for love is much more difficult to remove than the hunger for bread."
And that is true. It's easy for most of us to hand a sandwich to a hungry person. But how often do we sit with such a person and listen to their story? Are we able to join them in their grief when they need compassion? In the name of Jesus, we are called to open our hearts to those less fortunate than ourselves. The physically and mentally ill. The lonely.
When we ask God to fill us with his love—the kind of love that only he can give—we will be able to extend his hand in a tangible way to those who need him.
Mother Teresa's first move in the slums was to start an open-air school and establish a home for the dying destitute—truly the poorest of the poor. She convinced the city government to donate a dilapidated building for the cause.
Two years later, in October 1950, her ministry received recognition as a new congregation, the Missionaries of Charity. Her congregation grew and donations poured in, expanding her charitable activities. In the 1950's and 1960's, she established a leper colony, an orphanage, a nursing home, a family clinic, and a string of mobile health clinics.
Over the years, Mother Teresa developed a vast international organization of missionaries to help impoverished people across the globe. In 1997 she was awarded the Nobel Peace Prize, considered one of the 20th Century's greatest humanitarians.
Having focused on both Gandhi and Mother Teresa, I'm impressed with how much they had in common. Both these individuals happen to have been physically short in stature, calm and humble, soft spoken. And yet, they accomplished so much good. More than that, both of them were motivated by Jesus' example, inspired by his infinite love for others.
I'm going to end with these words from Mother Teresa:
"I am not sure exactly what heaven will be like, but I know that when we die and it comes time for God to judge us, he will not ask, 'How many good things have you done in your life?' rather he will ask, 'How much love did you put into what you did?'"
marja
This has been Part 7 of the series A Voice of One Calling. Read part 8 Martin Luther King Jr.
NOTE:
Dear readers. If you have mental health difficulties and have been hurt by being treated unfairly because of it, I'd like to hear a couple of lines of your story. As you know, the series A Voice of One Calling is ongoing on this blog. I'd like to publish a selection of your personal stories along with it, starting in a couple of weeks. How many I publish will depend on the response. Names will not be included.
Please send by email to marja@marjabergen.com